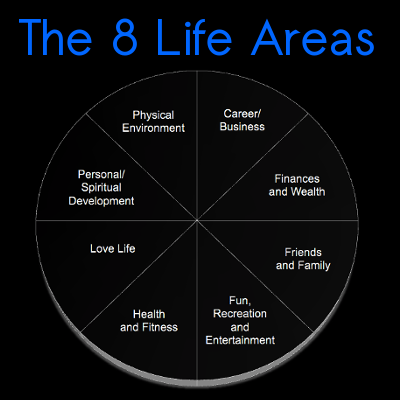 Life in 8 Segments
When you spend your time you can sort each activity into one of the main life areas.
You can also sort all the outomes you have in your life into one of the main life areas.
In this way, life areas become a helpful framework for tracking and meauring success in each area of you life.
The main life areas are:
| | | |
| --- | --- | --- |
| No | Life Area | Description |
| 1 | Career/Business | What you do with your time to make money |
| 2 | Finances and Wealth | Managing your money |
| 3 | Friends and Family | Important platonic relationships |
| 4 | Fun, Recreation and Entertainment | Guiltless, earned pleasure |
| 5 | Health and Fitness | Exercise and nutrition |
| 6 | Love Life | Significant other |
| 7 | Personal/Spiritual Development | Things you want to develop just for you |
| 8 | Physical Environment | Your physical location i.e. your house, city, state, country |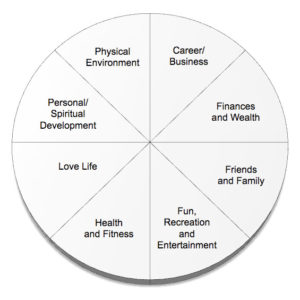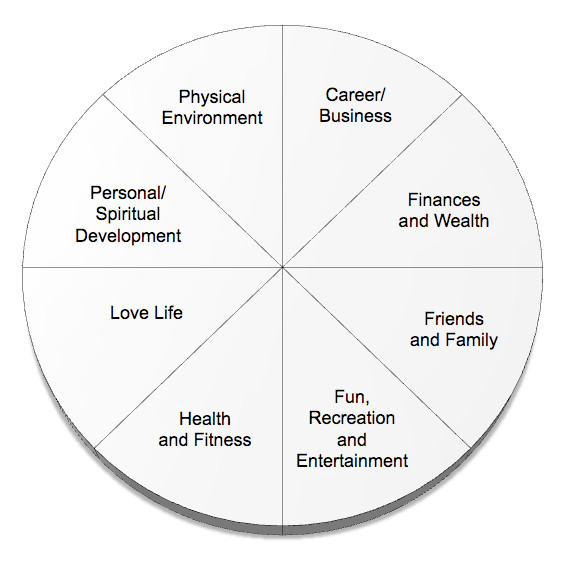 Improve Your Life!
To be 100% happy with your life and the path you are on, you need to be happy with the choices you are making and the results you are getting in each of the 8 life areas.
If you are unhappy, have a look at each of your life areas and see which feel incomplete.
Ask yourself what you would need to do to improve each life area.
List any life areas that you think you need to work on now and why.
Do you use any other life areas in your coaching business? Which ones?
The following two tabs change content below.
Benay creates expert tools and systems for coaches wanting to supercharge their business. She runs her business totally online while traveling the world with her family (husband, toddler and 2 dogs). She's been coaching professionally since 2006, has a Diploma in Life Coaching, is an NLP Practitioner and has an extensive background in business analysis and high-end, IT system development.