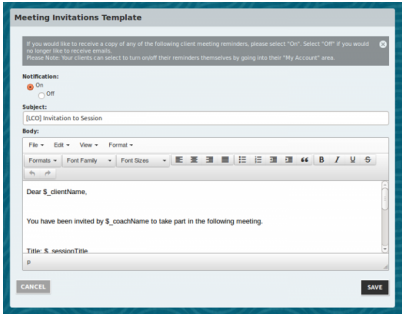 LCO 1.7 – New Meeting Invitations +
LCO 1.7 is Up and Running
LCO will be down for maintenance on the 7th/8th of Dec 2014 (depending on your time zone).
Los Angeles – Sunday, Dec 7 from 6:00 pm – 9:00 pm
New York – Sunday, Dec 7 from 9:00 pm – 12:00 am
Paris – Monday, Dec 8 from 3:00 am – 6:00 am
Singapore – Monday, Dec 8 from 10:00 am – 1:00 pm
Sydney – Monday, Dec 8 from 1:00 pm – 4:00 pm
We've got some great new features coming including…
Improved Meeting Invitations
Several enhancements have been made to meeting invites. Now you can link files in your Library to the meeting. You can view participant acceptance status, and more!
Customize Meeting Reminders
You and your clients can now go to My Account/Meeting reminders and turn OFF/ON meeting reminder emails. Coaches can also customize the text that is in the meeting reminder emails.
Better Processing when Coach PayPal is Empty
Every now and again your Paypal account is empty and you don't realise it. We want to make sure you can keep using LCO. So we've improved LCO Subscription Payment Processing for coaches who's Paypal accounts are empty.
Google Calendar
Improved Synch with Google Calendar.
Vision and Goals Section
We've renamed the 'Personal Development Plan' in your clients coaching files to the more commonly used term, 'Vision and Goals'
Coach Travel Planner
This is essential for coaches, like me, who regularly switch timezones regularly.
New Items Displayed in Calendar
Client Goals now display in Calendar in a different colour from client meetings. Your Travel time zone also displays.
Keep in Touch
We listen to our customers!
What's the most important part of Life Coach Office for your coaching business? What changes would you love to see next?
Save Time and Money with Our
Professional Coaching Tools
Get Your Free Coaching Tool Samples Here