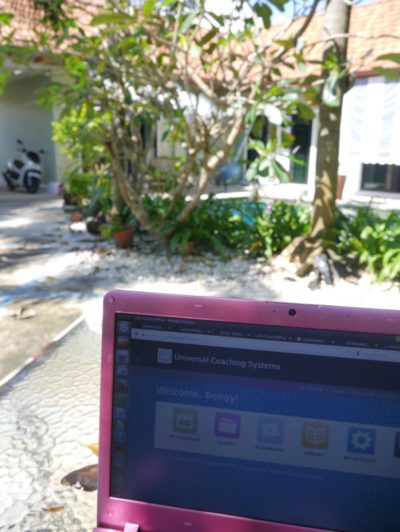 How do coaching clients register and pay online?
Let's say you have a coaching course all set up in Life Coach Office and you are ready to start selling it.
First you need to create a sales page on your website. Your sales page should talk about the benefits of the course, what is involved, how it is delivered, the curriculum and so, so much more (too much to go into here – I should totally address sales pages in more detail in a separate post on the USC blog someday!).
At the bottom of your sales page you need a "Registration" or "Buy Now" button for people to register and pay for your course.
There are two main ways we see LCO coaches setting this up:
If you want people to pay in full when they register, you can easily get the link for your "Registration" button from within Life Coach Office.
If you want to offer payment plans, you'll need to generate a "Pay Now" button from within your Paypal account. Paypal calls these "Reoccurring Payments".
In this article we show you how to do both.
Pay in Full
If you want clients to pay for the course in full then you can easily create your own "register" button using a link you get from your Life Coach Office Groups area.
Here is how to get the link for your "register" button:
Log in to your Life Coach Office Account
Click the 'cog icon' (top right) and select 'Groups'.
Once on the Groups page click "New Group".
On the New Group Page, fill in the title and set 'Would you like to enable to register for this group online?' to 'YES'.
Save
Once the group is saved, you will see your group listed with a little "get links icon" (on the right). Click that to get the link to register for the group.
Payment Plans
This Life Coach Office Tutorial goes through an easy and free work-around for using Paypal + your Website to enable monthly subscription payments for your coaching courses and programs in Life Coach Office.
What you need to set up:
Here is a brief recap from the video of what you need to set up.
Program Sales page on your Website
Program Thank You/Welcome page on your Website
Subscription Button from within your Paypal account. Link this button to your Thank You page – step 3. Paste the code for this button onto your sales page.
New Group in Life Coach Office (Cog icon, top right / Groups). Enable "Online Registration" and set the Group as "Free" – since payment is being handled outside of LCO. Add the registration link for the Group to your Thank You page if you want clients to self-register for your "Online Student Portal".
If you have any questions or have solved this in other ways, please share by leaving a comment below.


You may also be interested in:
How to Link Life Coach Office and Your Business Website
Save Time and Money with Our
Professional Coaching Tools
Get Your Free Coaching Tool Samples Here