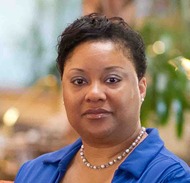 Delivered with LCO – Coach Interview #2
Each month we feature a coach who is delivering online coaching programs though Life Coach Office. In this series, you'll get the insider's scoop including implementation tips and pricing structures from fellow LCO-ers.
This week we look at Gwendolyn from, G.L. Young Consulting Corporation. GLYCC specialises in strategic planning for small business and not-for profit leaders.
In this interview, Gwendolyn tells you a bit about her coaching business, and gives lots of practical tips on how she manages to deliver her amazing content to clients accross the U.S.
Tell us a bit about your coaching business…
Our firm is focused on small business owners and non-profit leaders.
We help leaders create and execute strategies that position their organization for operational excellence and effectiveness as well as growth.
We firmly believe that if the foundation of an organization is not built on firm grounds of excellence it cannot propel itself to the heights of success. And it cannot be sustained to last a lifetime.
What is your online coaching program?
Our online program is executive coaching for leaders.
Too often small business owners and non-profit leaders allow themselves to get caught up in the day to day putting out fires that no one is tending to the vision and mission of the organization. Our team helps executives identify those gaps and implement strategies to create more efficient processes and systems.
How have your structured your online coaching program?
It's continually being refined, but currently, in my consult with potential new clients, I inform them of the centralized system that I utilize.
Once they are clients, they receive a welcome e-mail with instructions on how to access the online system and what resources are available to them.
Next month, we will launch audio lessons and eventually will expand to providing workbook sessions to compliment the audio lessons.
What parts of LCO are you using to deliver your program?
I am currently utilizing all the parts of the LCO.
Classroom
I utilize the LCO classroom as part of my Equipped to Excel Online Academy to house the online courses that I offer through my company. The courses are six-months in length and I upload the content to deliver audio, video, and workbook pages and drip-file them out at the beginning of each month so that the participants don't get overwhelmed with information and they can focus on the current assignment.
Bonus Material
I am utilizing the LCO Bonus Material section to provide resources to all of my clients whether they be from the online academy, personal coaching, and/or signed up for the monthly membership program.
Client Folder
The client profiles are exceptional! It is one of the many benefits I market to potential new clients.
I ensure they are aware they can utilize the personal development plans to create long-term goals.
I also utilize the pre-questions and post-questions in each client session and the private coach notes allow me to take notes during the live session with my clients. This saves me so much time and I now have one central location for all of my client notes and files.
I've also been able to train my clients on how to upload documents into the important documents section of their online client journal (that's what I call it) to eliminate back and forth e-mails with huge documents.
Billing
I also utilize the invoicing feature to send my clients their invoices for payment and it is directly connected to my PayPal.  So all of my current client invoices are pre-scheduled so I don't even have to worry about billing each month.
I spend the time on the front end when I put the new client into the system to add all of their invoices and the date I want it sent and then I just forget about it 🙂
LCO really has been a comprehensive system and just what I needed for my business.
What do you charge for your program?
Currently, an executive coaching package can be purchased for $450. This includes 3 hours of personalized executive coaching.
Clients may also purchase larger packages; 6 sessions for $810 and 12 sessions for $1,530.
A minimum of 3 sessions is required as we believe sustainable change cannot take place for less than a three session commitment.
What do you like the least about running online coaching programs?
Continuous re-directing clients that they need to utilize the system in order to get the full value of the program available to them.
I am currently creating a FAQ list for my clients on everything it has to offer.
What do you like most about running online coaching programs?
The ability to cross time-zones; my clients ability to access me is not limited by differences in time and thereby able to stay connected no matter where they are.
It also streamlines processes and eliminates hundreds of back and forth e-mails.
What's your top advice for fellow coaches?
Don't be afraid to launch!
Think about what you want to offer, spend some time on the front end setting up your program, and then go for it.
There will also be time for process improvement along the way.
Hit the ground running with these 5 Simple Tools