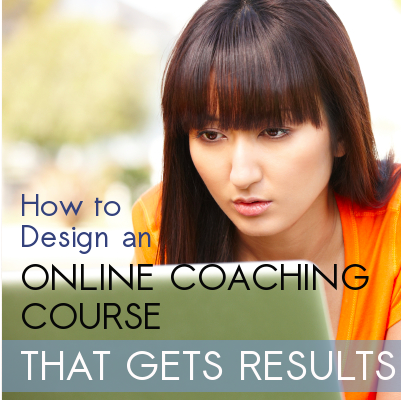 How to Design an Online Coaching Course that Gets Results
THE Hot Thing
I'm subscribed to plenty of email lists of coaches and mentors who have discovered the ultimate silver-bullet for solving all sorts of my problems. Are you too? Have you noticed that a lot of the products being sold are online courses?
I've bought some of them to see what I could learn.
But, you know what I've found?
No matter how awesome the content is in the online course – I never finish it. One program I'm on even has monthly live conference calls that you can bring your questions to.
Do I ever attend?
No – I'm too busy!
Everyone is too busy theses days.
Let's face it – life happens and often our best intentions (like doing a self-study program) get de-prioritised. This means tons of pure online courses just never get done.
So, while the trainer is sitting at the beach or off planning their next big income earner, the students are not getting results and are feeling guilty for falling behind with the work.
Even though the student has no one to blame but him/herself, there must be a better way…
Why did you become a coach?
The picture I painted above is not exactly aspirational for those of us who got in to this business to make a difference and to best serve our clients. So, I can see why many coaches don't bother getting an 'online course' up and running for their own businesses.
Did you know there is full spectrum of what you can do with an online course – not just the create it go to the beach option? As coaches and teachers, we have heaps of options!
This article looks at the two extreme ends of the online course spectrum and at the middle (which is of course just a mix of the two extremes). My hope is that this overview will give you a framework to consider what sort of online course you could happily design and run this year in your coaching business.
Just imagine how good you would feel by creating an online course that meets you were you are now in your coaching business, gives you the type work you like and want to do and serves your ideal clients beautifully. You'd be on to a winning formula for coaching business success AND personal fulfillment!
The Benefits of Online Courses
Before we get into the spectrum of online course options, let me remind you of some of the benefits of offering online courses.
Online courses play a huge role in the success of your coaching business for several reasons. This is because online courses:
Attract clients from all over the world who have sought you out to be their teacher.
Leverage your time because you work with multiple clients at the same time through the same set of material.
Enable you to start having a predicable income stream.
The Full Spectrum of Online Courses

This is a simple framework to used to help you consider what sort of online course you could run this year in your coaching business. Your goal is to design an online course that meets you were you are now in your coaching business, gives you the type work you like and want to do and also serves your ideal clients beautifully.
Self-Study
This type of program is where you prepare amazing content (video or audio lessons, workbooks or worksheets) and let the client get on with it. There is little or no further interaction or support from you as the coach/trainer.
Content Delivery
You may give the client access to all of the material in one go and let them sort their way through it.
Or you may drip feed the content out the them on a predefined schedule.
Or clients may have to get approval to proceed to the next level once they've passed a predefined milestone. This can be as simple as checking a box to say they've done the work in the lesson.
Best Suited for…
This is perfect for self-starters, academics and highly organized clients. Saying that, it really depends on the level of intensity of the course you are offering. Some material, no matter how organized your client is, will still be so new and challenging that he/she may be tempted to procrastinate to avoid the pain of what you are asking them to do.
If you do decide to go for this type of online course in your business, be sure to offer some type of check-in or extra support option for clients who find that despite their best intentions, they are procrastinating on getting the course work done.
Also, prepare your soul for the majority of people not doing the work and not getting results from your course. Remember that students are responsible, consenting adults. If you are confident that doing the work in the course and playing at 100% gets results and students choose not to play, it is ultimately their choice.
Key Benefits
Often lower priced – clients who want the knowledge and don't have huge budgets love this

Sell as many as possible because each one costs you 0 time

Opportunity to upsell personalized support/ accountability services
Hand-Held
This type of program is where you prepare amazing content (video or audio lessons, workbooks or worksheets) and hold the client's hand with one-to-one coaching sessions offered the whole way through the course. I see this as a HUGE opportunity for die-hard coaches.
You get the one-to-one interaction with your clients that you love. You are forced to create serious structure around what you do (which actually forces you to document and inevitably improve your methods even more over time).
It's almost like a right of passage for any coach to be able to produce a product like this. It takes you to a whole new level in your expert status.
It's a wonderful way to test out your methods for that best seller, book you're thinking of writing 😉
Content Delivery
I suggest choosing 4 – 6 month cycle and running your online course on set start dates a few times a year.
Once your online course starts, no new clients can join – they have to wait for the next course (easy to manage, your coaching head space is on the same topics for all clients at the same time – I love this aspect – and creates a natural sense of urgency to for your registration cycles).
The course follows a predefined schedule but due to the personal interaction you have with each of your clients – you can tailor certain parts to help them get the best results for them.
Best Suited for…
Clients who desperately want to make the change that your course delivers and will pay for it.
Due to the more intimate nature of this work, these students should be your ideal client type.
Key Benefits
Your ideal clients get extraordinary results

Predictable income due to regular delivery cycle

Often smaller number of clients paying for VIP service

Improved coach focus – you get to focus on the same topics for all of your coaching clients at the same time

More intimate relationships formed
Mix
This type of program is where you prepare amazing content (video or audio lessons, workbooks or worksheets) and let the client get on with it with some additional support from you. It's not as full on as the hand-held option but goes some way to finding a balance to getting great results for clients AND optimizing the additional time you need to spend supporting.
Some ideas:
Some one-to-one time with you

Live webinars and/or conference calls

Course specific Facebook pages or online discussion forums

Accountability buddy system
Pretty much anything goes! See the descriptions for the self-study and hand-held above and mix it up to create a course that will get amazing results for your clients.
I hope that this article has given you some food for thought. I hope that you take away the idea that there is not one way to deliver an online course.
I encourage you to get creative, play, have fun and design an online course that serves in the way you want to serve. The opportunity to create an online course that you LOVE and that your clients LOVE is here, waiting for you, right now.
The following two tabs change content below.
Benay creates expert tools and systems for coaches wanting to supercharge their business. She runs her business totally online while traveling the world with her family (husband, toddler and 2 dogs). She's been coaching professionally since 2006, has a Diploma in Life Coaching, is an NLP Practitioner and has an extensive background in business analysis and high-end, IT system development.